---
YBK Publishers selects the books it publishes based on solid scholarship.
For manuscript consideration please follow this link.
If you would like to learn more about YBK Publishers, please click here
To read about YBK author experiences, click here
To return to our Catalog of Published and Soon to be Published Titles, please click here
---
Poetry Category
Featuring the Bowery Poetry Series, and others
Life Poem
by Bob Holman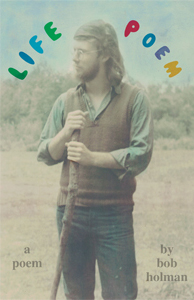 Bob Holman, 21 years old in 1971, and ready to take on life, takes on life by writing and submitting his (this) Life Poem for the "United States Award." "Desperate now," he says then, "I've started to write down everything that comes into my head." And, in doing that it is set down here as well as having been submitted for recognition in 1971. Holman was (and continues to be) desperate not to let anything escape him.
In the almost fifty years that intervenes between its writing and its publication, Bob Holman's life has been in pursuit of being the poet. Success may change a man, but success does not change the poet. The poet will always seek that nothing escape him. Holman succeeds and shows you here the underpinnings of that success.
The Unspoken
by Bob Holman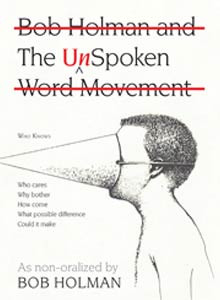 Another Holman work, this title speaks for itself (or not)!
No Winter Maintenance:
Pass at Your Own Risk
by Donna Marie Merritt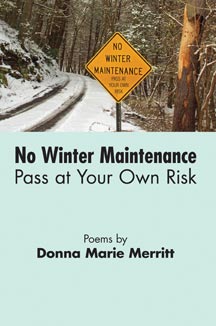 Donna Marie Merritt's sixth book of poetry begins with her husband's infidelity and makes clear from the start that no woman (certainly not this poet) will put up with that. Searching for answers and navigating new territory alone, Merritt's poems sing out that strong women (and men) may bend, but they won't break. This collection of sixty poems includes a wide range of reflections and observations about society, human behavior, and the healing gift of nature.
LONG & SHORT:
including THE STREET IN YOUR HEAD
by Angelo Verga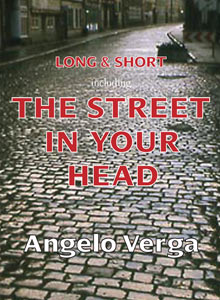 This collection of new and selected poems by Angelo Verga, the quintessential poet's poet, is like nothing you've read or heard before. Contained are both long and short poems that work the same themes from multiple and closely crafted angles--all in a diction and attitude that is American, current, and urban.
From religion to sex; from domesticity to conflict; from real workers to economic vampires; from literary commentary to actual life lived on the street, Verga's seventh book is essential reading for those who want to discover what contemporary American poetry can do in the hands of a master.
Cleaning the Duck
by Tsaurah Litzky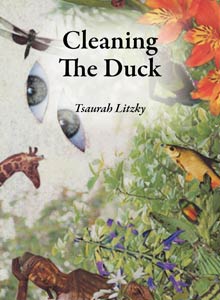 Tsaurah Litzky finds the sublime in the ridiculous and beauty in the garbage. Cleaning the Duck, her honest, invigorating, and luminous second poetry collection, will help you think, grow, come. Tsaurah lives in Brooklyn and believes it is a privilege to be a poet.
"In Cleaning the Duck, Tsaurah Litzky brilliantly captures the contradictions of what it means to be alive in the twenty-first century. These poems sing off the page leaving the reader enchanted, entertained, and blissfully exhausted."
—Danny Shot, publisher and editor of Long Shot
"Transgressive, informative, totally original, funny as hell, Cleaning the Duck will take your breath away."
—Steve Cannon, author of Groove, Bang, and Jive Around; founder of A Gathering of the Tribes
40oz Elephant
Bowery Books #11
Poems by Celena Glenn and Black Cracker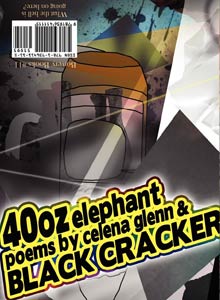 Self-taught and operating out of a grimy basement studio, the one-time army brat and art school dropout, is, simply put, a creative powerhouse. Black Cracker, a provocatively pop and poetic artistic ingénue, has created for, and been featured in, productions for the Kitchen, the Culture Project, and BAM Harvey Theater, along with having worked on projects with the Whitney Museum of Art, the NY Knicks, and Russell Simmons Presents Def Poetry Jam.
Twice featured in the New York Times and just back from a tour in India and Europe with Swiss jazz trio Grandpianoramax, Black Cracker's groundbreaking solo record is a blend of lyrical genius and beat-boxing for a sound that is best described as Basquiat meets Tupac.
In addition to being a fierce artistic talent, he was the Artistic Director of Urban Word NYC, one of the nation's leading literary and performance organizations for youth. He was also a regular host at both the legendary Nuyorican Poets Café and the Apollo.
This book is the eleventh in the Bowery Books series.
Always Moving
by Sarah Herrington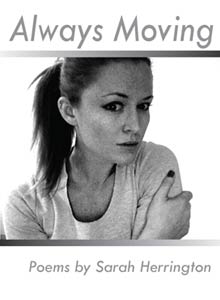 Sarah Herrington is a big-apple farmer, dharma bum punk, urban yogi, poet, and writer. She was chosen by O, The Oprah Magazine as an "Up and Coming Poet" in the April, 2011 issue.
I'm thinking about the Earth and about this space-shot of a book by Ms. Herrington, about the nurturing ecology of poetry and consciousness. I would like to thank Spaceship Sarah for Always Moving, and now we must all work hard as we can to keep up!
-Bob Holman
This book is the ninth in the Bowery Books series.
Click to view some sample pages from the book (Title page, Table of Contents, About the Poet)
7 Continents, 9 Lives
by Fay Chiang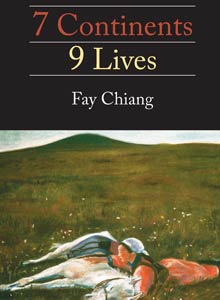 Fay Chiang's work is complex. Born of anger, it is ultimately optimistic about the importance of the artist as a preserver and perpetuator of culture, and of the self-determination of the individual in a society in which pressures to conform persist. Her unflinching sense of fairness and justice and her intolerance of hypocrisy seem at odds with her joie de vivre and good humor. In truth, her tenacity and clear vision are the strength of her work, both artistic and political.
Fay Chiang is a writer, artist and community/cultural activist living and working in Chinatown and the Lower East Side of New York City for the past four decades. Raised in the backroom of a laundry in Queens by immigrant parents from Guandong, China, she writes from her experiences as a woman of color from the working class. She believes culture is a psychological weapon to reclaim our past, define our present and to envision possibilities for our future; that the development of culture is an integral part of progressive social change and social justice movements.
". . .through her words we feel the crackle and pain of being othered. . . ." states John Kuo Wei Tchen of New York University and the Museum of Chinese in America.
This book is the eighth in the Bowery Books series.
Click to view the Table of Contents and some sample pages from 7 Continents, 9 Lives
The Touch
by Cynthia Kraman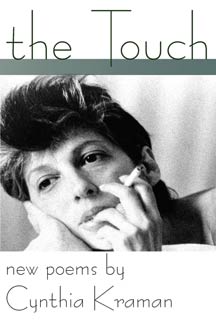 Startling poems of incisive intelligence and deep compassion.
Marie Ponsot finds The Touch "rich, lyrical, sharp, a big world well perceived, Cynthia Kraman's poems are alive with real ideas. . . You have to read this. Pure pleasure."
Bob Holman says, "The Touch, the long-awaited new book of poetry from medievalist and former punk-rocker Cynthia Kraman, tosses New Formalism on its ear, and is rock lyrics . . . resuscitates Wordsworth . . . a superb, extraordinary, shocking, unflinching, charming, hilarious, perfectly gem-cut book."
The book is in two parts: My Heart Was Like A Sword has as its formal basis medieval number theory; Speak in the Dark's form refers to the days of Biblical creation and the weekly life of each of us. The poet writes, "I will leave it to the reader to find her and his own macro and micro readings of the poems' many days and nights, of nature created and creating, and the ongoing annihilations and regenerations of love and war."
These are heights, when they are not depths. A rich vein in our new poetry.
—Richard Howard
This is a book to read and re-read, the real thing.
—Thomas Beller
This book is the seventh in the Bowery Books series.
Body of Water
by Janet Hamill; Photographs by Patti Smith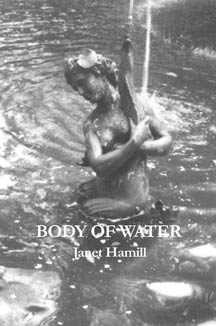 With mercurial wands, Baal's angels, decks with wild Jacks of oracle bones, tempest Serpens, Lord Byron on the Bridge of Sighs, stallions mottled grey, a "dark blue stronger than the Flemish blue of hummingbirds," and poesis lying in the ashes of a dress, Janet Hamill turns her wizard poet's eye on an immense body of alchemical empathies. This book is a romantic, surreal, lyrical Voyage. It twists and turns with the playful tide of poetic vision, enhanced by the delicate measures of Patti Smith's photography. Kudos all around.
—Anne Waldman
Reading Janet Hamill now, as I have over the last thirty years, I'm amazed again at the particulars of the world her poetry makes—a night world, as I read it, peopled with bright creatures and splashes of color, beautiful and terrifying by turns. With this there is a mix, too, of pop forms and strains, and of catholic and pagan names and images—angels and saints and hermits—as in the vision of her sleeping gypsy: "firebird sweets / a morsel a taste of carrion / . . . as in a dream." With this and much more, she has become indispensable.
—Jerome Rothenberg
With its unbridled surrealistic, hypnotic imagery, Janet Hamill's alchemy of language gives us back communion with our souls. With a magician's grace she reminds us of the enchantment of our being. Hers is a music both modern and magik.
—Maureen Owen
. . . Janet Hamill has sought transcendence in language on the page or sung . . . Hamill's mastery of form and feeling comes together to create a poem that delicately examines celebrity, gallantry, silence, talent, and beauty. Only a poet could do that. Or maybe only Janet Hamill.
—Patricia Spears Jones
This book is the sixth in the Bowery Books series.
Estamos Aquí
Poems by Migrant Farmworkers
Translated by Janine Pommy Vega; Edited by Sylvia Kelly, Bob Holman, and Majorie Tesser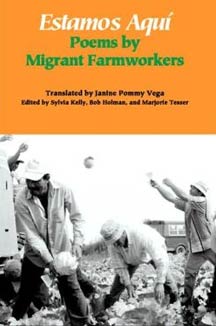 Everybody talks about the plight of illegal immigrants in the US, but who gives us their own voices, tells us of the daily lives, of these shadow workers? Estamos Aquí—We Are Here—is a heartstirring collection of poems written by migrant workers, speaks of joy and heartbreak in the direct voices of Mexican and Central American migrant farmworkers. Presented in both Spanish and English, these poems ultimately succeed in humanizing them, revealing them as our neighbors. In workshops after a day's backbreaking, sunbaked labor at migrant camps in upstate New York sponsored by the GENESEO Migrant Center, and led by renowned Beat poet Janine Pommy Vega, here came poems of home, of crossing borders, of the joys and agonies of work. Until now, there's really been no way to tap into the inner worlds of the Latino pickers of the produce that feeds the majority of our populace, while their small earnings return to their families back home. Now, with Estamos Aquí, we realize that we are in this together, a relationship to evolve, not a problem to solve.
The fourth book in the Bowery Books Poetry Series, Estamos Aquí is a must for those studying illegal immigrant farmworkers, interested in contemporary Spanish-English poetry translations, having an awareness of the relationship of outsider arts, arts education, and the political intricacies of US immigration policy.
The Poetry Dollars
by Paul L. Mills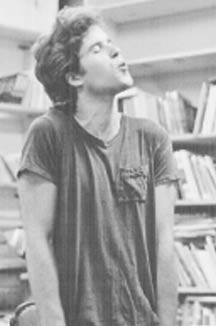 What is the shortest distance between a poet and the world of humans who might like poetry, but have been taught it is obscure and boring? And what poetry would result from making a living out of that connection?
The answer is The Poetry Dollars, based on the very real life experiences and work of Paul L. Mills, a.k.a. Poez (www.poezthepoet.com), who during a ten-year career starting in 1977, invented himself in the form of a "poet-performer," appearing with a fusion of drama, music, and improvisation, first in the streets of Boston and New York, then in coffee houses, nightclubs, concert halls, theaters, on radio and television, as a straight stand-up performer, in off-Broadway theater, and with a modern dance company, at such well-known venues as The Bottom Line, CBGBs, Charles Ludlam's Ridiculous Theater, and The Bitter End in New York, and Le Theatre du Rond-Point on the Champs-Elysees in Paris, sharing the bill with, among others, beat era novelist William Burroughs, 60's jazz vocalist Mose Allison, and Richard Hell of the new wave rock band Television.
There has never been anyone else like him.
This book is indispensable to anyone interested either in the history of spoken word and performance poetry, or in its future development, because this is pioneering work that, decades ago, went in directions that contemporary artists have yet to surmise. The Poetry Dollars is the inevitable consequence of a web page posted by New York City poetry icons Bob Holman and Jackie Sheeler, Whatever Happened to Poez? during the 15 years Mills spent, after disappearing from the New York scene, as a civil rights lawyer in Los Angeles. Now he is back, married to his former girlfriend, singer-songwriter Suzanne Vega, with this book from Bowery Books and YBK Publishers.
The work consists of three parts. Part I is an essential instruction guide for anyone who wants to follow his path into the street. Part II, fictionalized memoirs of a career in performance poetry. Part III, the poems themselves.
Author Paul L. Mills is a former rock journalist, whose exploits were recounted by David Felton in a Rolling Stone cover story, and whose work for Boston's Fusion Magazine was hailed by syndicated Boston Globe columnist George Frazier's The Lit'ry Life as "brilliant." He is a 1990 graduate magna cum laude of the Columbia Writing Program.
Click here to read a sample from this book (NOTE: You must have Adobe Acrobat Reader to view the sample pages).
Click here to view the Table of Contents.
A Simple Country Girl
by Taylor Mead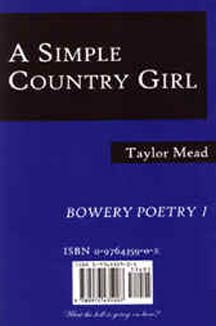 Taylor Mead's fourth book—his best and funniest—and his first book in twenty years, A Simple Country Girl, is a collection of poems that are bright, ephemeral, and brilliant downtown Zen.
Once Poet Laureate of Andy Warhol's Factory and now an indomitable octogenarian, Taylor Mead has recently been seen in Jim Jarmusch's latest, "Coffee and Cigarettes." He's a renowned actor, having appeared in innumerable underground classics from Warhol's "Lonesome Cowboys" to the first film of the Beat generation, "The Flower Thief." On stage he created the title role in Frank O'Hara's "The General Returns from One Place to Another" and Michael McClure's "Spider Rabbit."
Taylor Mead continues to be the most avant poet on the block, if he were in Japan, he'd be a National Treasure. Here, he's got a weekly cocktail gig at the Bowery Poetry Club (every Friday at 6:30PM). Who but Taylor Mead could possibly head the list of a series of books published under the Bowery Poetry Club imprint? Described by the New York Times as "that beacon on the Bowery" and proclaimed "the best poetry club in the world" by the Village Voice, the BPC has launched with YBK Publishers a series of books of and on poetry that will bring the freshest poetry to center stage, in fact, much of the work originates right on stage at the Club. Continuing the series of books will bring you the Club's Bartenders, complete with poetry recipes and "The Bowery Girls," five young women poets of the Bowery.
Click here to read a sample from this book (NOTE: You must have Adobe Acrobat Reader to view the sample pages).
Bowery Women: Poems
by Alana Ruben Free, Amy Ouzoonian, Ana Castillo, Ange Mlinko, Ann Bettison Enzminger, Anne Waldman, Brenda Coultas, Carla Harryman, Celena Glenn, Cheryl Boyce Taylor, Cristin O'Keefe Aptowicz, Cynthia Kraman, Daphne Gottlieb, Dawn Saylor, Deanna Zandt, Diane Burns, Donna Masini, Elaine Equi, Elinor Nauen, Elizabeth-Jane Burnett, Emily XYZ, Fay Chiang, Gabriella Santoro, Hettie Jones, Honor Moore, Ishle Yi Park, Jackie Sheeler, Jan Heller Levi, Janet Hamill, Janice Erlbaum, Janine Pommy Vega, Jen Benka, Jennifer Blowdryer. Jessica Hagedorn, Joy Harjo, Kathryn M. Fazio, Kim Rosenfield, Kristin Prevallet, Lee Ann Brown, Leslie Scalapino, Leticia Viloria, Liz Maher, Lynne N. Procope, Maggie Balistreri, Maggie Dubris, Marie Howe, Marie Ponsot, Marjorie Tesser, Martha Rhodes, Marty McConnell, Mary Reilly, Maureen Owen, May Joseph, Melissa Christine Goodrum, Nancy Mercado, Naomi Shihab Nye, The O'Debra Twins, Patricia Smith, Patricia Spears Jones, Rachel Levitsky, Rachel McKibbens, Radhiyah Ayobami, Regina Cabico, Sapphire, Sarah Herrington, Sarah Quinter, Seren Divine, Shanna Compton, Simone Gorrindo, Suheir Hammad, Tara Betts, Tsaurah Litzky, Turah, Vicki Hudspith, Wanda Coleman, and Zhang Er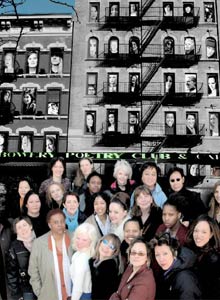 What is your signature poem? This question was posed to 76 contemporary American women poets who have delighted, inspired, and shocked audiences at New York City's Bowery Poetry Club. And so was born Bowery Women: Poems, an extraordinary anthology including such national treasures as Anne Waldman, Ana Castillo, Sapphire, Jessica Hagedorn, Marie Ponsot, and Marie Howe, former Broadway and HBO Def Jam poets like Ishle Yi Park and Suheir Hammad, slam winners, plus a crowd of new talents.
One poet; one poem; one photo. Each poet offers her greatest hit. In some cases, it is the one poem they're best known for, in others, it is the one most published or most often requested, and in still others, it's a personal favorite.
The works range from elegant classical poems with chiseled lines to free-flowing "slam" pieces to experimental forms. The poets, too, are an unusually diverse group: multi-ethnic, teens to octogenarians, academics to drop-outs, urban to rural.
What emerges is an entertaining, highly readable, challenging and stimulating survey of (mostly) American women poets writing today.
New York's Bowery Poetry Club is where it all started. An extraordinary venue that promotes poetry in all its forms, it's the brainchild of co-editor, poet and educator, Bob Holman. Holman ran readings at St. Mark's and the Nuyorican Poets Café, where he founded and emceed their Poetry Slams from 1988-1996. He's also published seven books, created Mouth Almighty, the spoken word division of Mercury Records, and produced poetry shows for PBS and MTV. Holman teaches at Columbia University.
The book is the third in the Bowery Books series.
The Bowery Bartenders Big Book of Poems
by Shappy, Moonshine Shorey, Laurel Barclay, and Gary Mex Glazner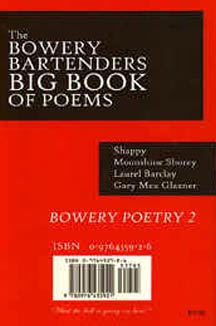 Thirsting for some of that new poetry? Four of New York's Bowery Poetry Club's great bartenders serve up some verse for all what ails you: the devilishly funny pop satires of Firecracker Award-winner Shappy; the trembling white-trash truth serums of Lower East Side Ingenue of the Year, Moonshine Shorey; the rock'n'roll womanifestos of Laurel Barclay; and a series of drink recipe poems by Poetry Slam International's Minister of Fun, Gary Glazner. The Club is known for its all-poet staff, for its 24-hour commitment to serving the world poetry, and for its apple ply bar. Now you can have it all imported into your living room via the technological wizardry of a Book! Cheers!"
Love Poems About Emma
by Robert Glover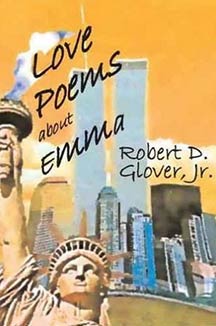 Feel its pain—live its pain.

This is not so much a litany of unrequited love as of a wholly pledged but unplaced love. So simply written, its complexity is revealed in the parallel responses felt by the reader.
Who is Emma?
The following are excerpts from Love Poems About Emma. They are snippets chosen to help show the pain.
Read the book; feel the pain.
[from]
Why Can't I Be Like Other Men?

Other men fall in love and marry.
I have fallen in love with you,
but when I am near you
I feel so awkward that I can't even say hello.
How can I marry you if I can't even say hello?
[from]
If You Loved Me

But if you loved me,
oh how my heart would soar.
All my hidden, secret love would
come gushing out,
and I would dedicate my life to you.



[from]
What I'd Do for a Date with You

For a date with you I'd propose to you,
I'd marry you,
I'd spend my life with you,
I'd have twelve kids with you...
OK, 13 kids.



[from]
Everyday I Pray For You

Prayer is all I have to offer, to make you become mine.
Mine forever, till death do us part.
Mine to honor, to cherish, to protect, to care for and be proud of.
Mine to raise children with, mine to plan a future with.
Only a miracle could ever make you mine.

[from]
Hiding My Love

I never look your way.
I look any way but your way.
When you are not in the room,
I cannot even look in the direction where you would have sat.
Someone, I fear, might figure out I was looking at YOUR chair.


Unfinished Ruins
by Martin S. Dworkin; edited by Bernard J. Looks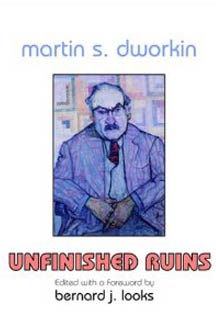 Beyond being a poet, Martin S. Dworkin was a writer, photographer and editor of extraordinary ability. As a successful and widely published critic of film, Dworkin broke new ground in maintaining that everything we do in society has an educational aspect. During the fifties and early sixties, he was writing film criticism on a regular basis for such journals as The New Republic, The New Leader, The Progressive, and Canadian Commentator. As a teacher, throughout the sixties and seventies, he offered two highly praised courses of his own origination at Columbia's Teachers College in New York City. He was a research associate at the Institute of Philosophy and Politics of Education at Teachers College and was General Editor of his own series, published by Teachers College Press. Also during the sixties and seventies, Dworkin was often invited to lecture at universities on such diverse subjects as photographic education, cinema, film study in higher education, and radio.
Dworkin's poems are mined from the experiences of his life, especially what he lived through during World War II. According to Bernard Looks, the editor of this collection, "They are pervaded by a profound pessimism which, I can attest, characterized him throughout his life. But, despite this pessimism, Dworkin never ceased his struggle to make sense of the wreckage that the war brought and left in its wake during the post war period."
Bernard J. Looks is Emeritus Head of the Social Studies Department of the Great Neck South High School in New York. He has been a lecturer in humanities at the United States Merchant Marine Academy, a Visiting Scholar at Columbia University's department of history, and a Visiting Fellow at Princeton University's department of history. In preparation are a collection of the film criticism of Martin Dworkin as well as a memoir of Dworkin's life and work, and a translation of the philosophical memoir, How I Arrived at This Conclusion, by Charles Renouvier, distinguished French philosopher.
Praise for Martin S. Dworkin:
It is not often ...that I meet with the consistent quality and subtle perception to be found in the reviews and critical pieces of [The Progressive by] your columnist Martin Dworkin.
—Amos Vogel, founder, New York Film Festival
It would be hard to find courses anywhere that give teachers a deeper understanding of what education is all about than the two which Martin Dworkin of Teachers College offers in Aesthetics and Education and Education, Ideology, and Mass Communication.
—Charles E. Silberman, author of Crisis in the Classroom and Crisis in Black and White